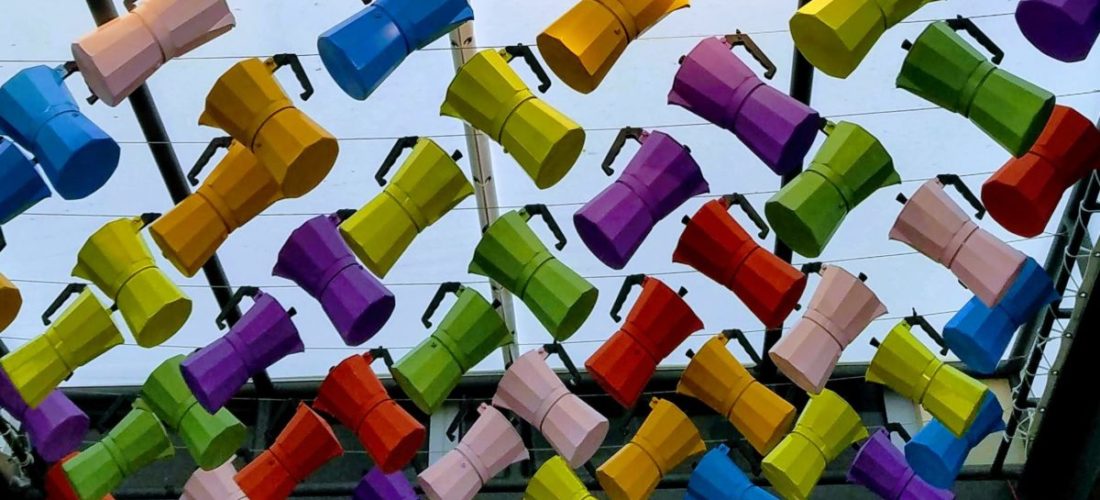 Posted by Juan Oropeza
On October 26, 2018
0
Sure, you miss all those colorful umbrellas on Giralda Plaza. Who doesn't? But now you can experience the wonder of the Cafetera Sky. Or Cielo, if you prefer.
You can't get any more Miami than that.
The mini installation was part of the grand opening Thursday for the Latin Cafe at 1053 Brickell Plaza. Kali Castellanos, who owns Latin Cafe with her husband, Eric, spraypainted 100 cafeteras — Italian-style coffee makers — to hang at the entrance. It's a  good-natured homage to Sextaferia's unique Umbrella Sky installation, which captivated Miami all summer and came down in September.
Still, the Cafetera Sky is pretty great:
It was also more work than expected. "My hand is still pretty sore," Kali Castellanos confessed.
This Latin Cafe also brings Brickell its first true ventanita. (Point out to a Brickellista that Publix kind of has one, and he or she will tell you that one isn't a real ventanita.)
This is a real ventanita. We recommend the cortadito with evaporated milk, in case you wondered.
This is also the first Latin Cafe with a bar, and that bar offers a variety of specialty drinks, including the Malecon Mule (with Havana Club Añejo Blanco rum, guava nectar, fresh lime and ginger beer). During weekday happy hour from 4- 8 p.m., try one for only $7.
If we were you, we'd head over soon to snap a photo. Kali Castellanos isn't sure how long her Cafetera Sky will remain. Maybe a month? Maybe longer? Get a selfie while you can.